Personifying Bravery, Resilience, and Service Excellence: Dmytro Suslov
Operating under excruciating war conditions and maintaining service levels despite the shaking trust of clients in the middle of Russian invasion, Addlium has shown remarkable resilience so far and, in fact, even extended their employee base in 2022.   
Sure thing. They haven't quit playing and never will for sure.
Ukrainians zeal to survive, achieve and flourish in one of their darkest periods is really admirable. This exclusive GoodFirms interview with the company's CEO, Dmytro Suslov, discusses how Addilium – a budding startup and a BPO & lead generation company for global businesses, adapted to new situations in the country and accelerated their growth efforts despite the challenging environment in Ukraine.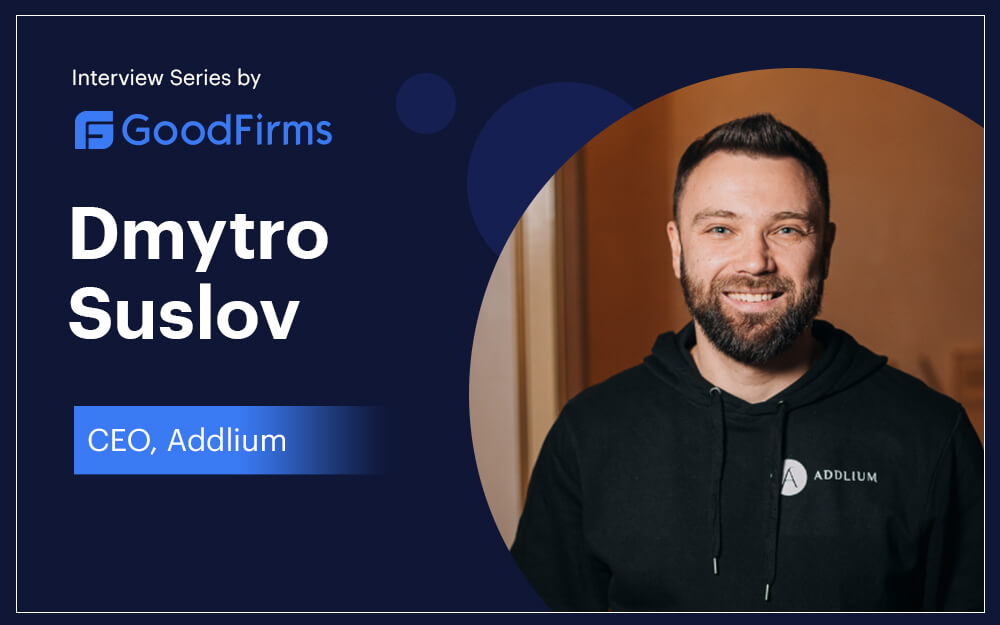 Addlium Overview
Addlium initiated the implementation of a social selling approach for B2B companies. It is a BPO and lead generation agency established in Ukraine. It empowers companies from diverse industries to target their global prospects efficiently and helps their sales departments to touch their KPIs faster.
Today, Addlium helps its clients improve their brand recognition, attain qualified leads, close profitable deals, and stand out from the competition.
Story Behind Company's Evolution
Dmytro Suslov laid the foundation of Addlium in 2020 as a digital marketing agency for B2B companies. A wide range of services offered then included: SEO, PPC, SMM, content marketing, landing page development, etc. They were linked to clients from different industries such as IT, Logistics, Automotive, and Agrifood.
Suslov's massive 15+ years of experience in marketing and sales in the B2B sector enabled him to transform his classic digital marketing company into a full-fledged lead generation agency that attained a level of success through their own experience. Being the Chief Executive Officer at Addlium, he looks after the company's business development section. He said he is directly involved in the company's sales processes – searching for ideas and new directions and validating them for their clients. Suslov also enabled the company to rank as the top BPO and Lead Generation company in Ukraine by GoodFirms,  because of his hard work and  consistent positive reviews received from the clients. He agreed that he trusts GoodFirms listing service and admires the encouraging profile visits received from time to time.
Present Generation's Addlium
At the beginning of 2022, the company planned to launch its brand new service package for their client's Personal Profile Development and Lead Generation on LinkedIN. They already tried the framework and received inbound requests in response but failed to proceed further due to the Russian invasion and adverse conditions in the country because of it.
However, he thanks the Almighty for being safe and given that he was able to resume work remotely like many others in the country who have gone through similar situations and stood firm in face of these adversities. Amidst these unexpected crises he feels that  Addlium's flexible working culture has been the company's biggest plus point as the flexible approach helped them retain their team and more importantly scale up in a few months, despite the severe economic crisis in the country. So, when the clients were leaving Ukraine's internal market, Addlium was still able to successfully narrow down some of its services such as Lead Generation and Content Management Services for C-Level companies  on LinkedIn.
Mr. CEO further revealed that the company undertook some rebranding efforts and even the company name was changed to "Addlium" – which meant to add more value and sense through content – That is, through delivering  the right messages to the right audiences. The right content guarantees significant profits through lead generation, and also networking with the right business people.
A client review below proves why the company is valued by its respective clients.

Click here for more reviews for Addlium.
What Makes Addlium Different from its Counterparts?
As the CEO confirms, the entire business outsourcing services in the company are provided by their in-house team only.
Their team works with a clear mindset and clear values behind their services. All the core members and their teams within the company share the same vision, i.e., to deliver valuable service, as always promised. Thus, this makes them different from their competitors.
Service Excellence and Industrial Presence

Suslov talked about the most famous Ukrainian NGO for which they work voluntarily and helped them find partners from foreign countries. He clarified that they adopt an approach of working according to their client's needs. For most commercial projects, the company merely focuses on Logistics, IT, and Manufacturing sectors.
Clients mainly approach the company to Implement a Social Selling Process for their businesses that covers providing Content Support, Profile Packaging, and Lead Generation. A good time is given for research and cold calling. Healthy negotiations are performed with already interested leads that potentially end up finalizing a good deal for both parties.
Client Satisfaction and Support are Addlium's Priority
Suslov rates Addlium 8 out of 10 in terms of client satisfaction. Still, he believes in working hard to prove better. He prioritizes improvement and follows standard rules for processes like Content Management, Lead Generation, Accounting, etc.
Though the company doesn't provide any technical service, they do not need a technical support team. Instead, the clients usually send their queries to the chat group, where the dedicated account performs further processing for resolution.
Company's Payment Structure
Pay per monthly method is used to price the projects based on their service packages. The budget depends upon the type of project accomplished. For example, $600 is charged for LinkedIn Brand Packaging. Other complex tasks related to personal brand development, business network expansion, and sales activities start from $2,000. The price policy is not going to change in 2023 in any way. The company's main motive is to improve the quality and effectiveness of work instead of raising prices.
Suslov's Future Plans for Addlium
When asked about where he sees his company in the coming ten years, with sparkling eyes and faith in himself, Suslov responds that they want to be helpful and valuable to their customers throughout their journey as a service provider.
He concludes this interview by sharing that they have a vision and a strong team of the best specialists in the industry. Hence, he is sure of Addlium's success in creating value for its customers.
This is just an excerpt of Dmytro Suslov's detailed interview with GoodFirms. Also, find the elaborated version on Addlium's company profile on the GoodFirms website.
About GoodFirms
Washington, D.C.-based GoodFirms is a trendsetting B2B research and reviews firm that aligns its efforts in finding web development and web design service agencies delivering unparalleled services to its clients. GoodFirms' extensive research process ranks the companies, boosts their online reputation, and helps service seekers pick the right technology partner that meets their business needs.
About the Author
Prepared by Anna Stark, a Content Writer at GoodFirms, who bridges the gap between service seekers and service providers. Anna's dominant role lingers to form every company's achievement and critical attributes into words. She strongly believes in the charm of words and equips new approaches that work, always with concepts.