Implementing
Social Selling Approach for B2B
Increase your sales and improve brand awareness – delegate lead generation and brand packaging on LinkedIn to social selling experts.


Addlium is a marketing and social selling agency offering result-oriented services for B2B companies in different industries.
Starting from a classic digital marketing agency for IT and Logistics companies, we gained our expertise through our own experience.
Our overall background in marketing and sales counts 15+ years, of which 10 are in the B2B market.

We connect your company with qualified leads to make your sales team reach KPIs faster. You get only contacts interested in making a deal.
We implement proper communication strategy channels to showcase your brand's values and expertise.
We accurately determine your target audience and create detailed decision-maker profiles to make our cooperation productive.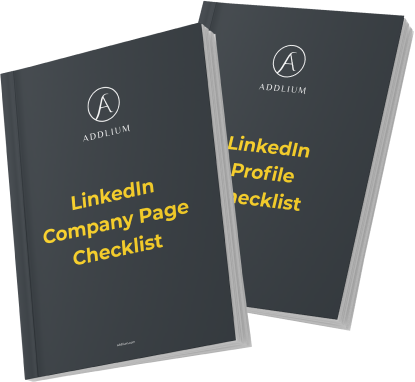 Get our comprehensive LinkedIn checklists for free
Check for yourself how good you are presented there!















Lead Generation on LinkedIn for Marine Engineering Company
Industry: Maritime Engineering
Location: International
Objectives: Find potential partners who need to outsource naval designing and engineering services
"I can definitely recommend Addlium as a team with a systematic approach and understanding of the processes."
Tetiana Mykhasko, Head of Sales and Marketing at C-Job Nikolaev
marketing qualified leads
conversion rate of invites acceptance
times growth of business network on LinkedIn
Social Selling on LinkedIn for the Ukrainian Furniture Manufacturer
Industry: Manufacturing
Location: Ukraine
Objectives: Find potential clients for bulk orders and increase brand awareness in the European market
"I honestly recommend Addlium to any Company that is looking for a contractor for personal branding and lead generation for entering the new markets through LinkedIn."
Maksym Rogozhyn, CEO at AGT Plus
marketing qualified leads
conversion rate of invites acceptance


"I honestly recommend Addlium to any Company that is looking for a contractor for personal branding and lead generation for entering the new markets through LinkedIn."
Maksym Rogozhyn, CEO at AGT Plus
"We've got a very good result and hike in our business after starting collaboration with Addlium. We have signed with 3 companies and are negotiating with 2 at the moment."
Natalia Tovbas, CEO at Headway School of English